In Our Employees' Words: What's It Like to Work at Intervala?
No two days are alike. It's never boring. Tough challenges spark collaboration. Everyone has a voice. Professional growth is supported. Outstanding efforts are celebrated. Fun is essential. You can build an exciting career here, and many of us have. More than half of our employees have been part of the Intervala team for a decade or longer.
I like the responsibility and challenge of building a product and seeing the final result. To me, each challenge is a personal goal I set for myself, which I love. So, every day I'm working toward reaching a goal, and that is rewarding for me.
Kelly Uhring, Assembler, team member since January 2006
No two days are ever the same, which allows me to grow as an individual and a team player. At the end of the day, I leave my desk having a sense of accomplishment, which makes me want to come back the next day.
Roxanne Petro, Buyer, team member since November 2016
Every morning when I leave home, I have no worries about coming to work. My managers are the best to work for; they are caring and understanding. They instill the desire and drive to make me want to succeed. I have the greatest crew of employees working for me. They are quality driven. They take great pride in accomplishing every task set before them. Every day is a new challenge. I never get stale in my job; there is always a new challenge to overcome. And, at the end of the day, I feel like I have accomplished something.
Keith Nelson, Production Supervisor, team member since July 1989
What I like about coming to work each day is interacting with and helping people. When I am able to help someone in any way, it's a great feeling.
Trudy Majetich, PCB Assembler 3, team member since October 2007
I enjoy the opportunities provided by the variety of work. My skills have grown tremendously since joining Intervala because of the complexity and diversity of the work. I also really appreciate how supportive the management staff is to all employees.
– Jeff Harvey, Electromechanical Assembler 2, team member since August 2007
I love the fact that we cut the red tape in our company. There is always an open-door policy for discussions with upper management. We are more like family than coworkers. There aren't a lot of politics here. They trust me to make the right decisions for the company and then support my decisions once they are made. This allows me to get creative in developing solutions that work great for Intervala and our customers.
– Mike Leroch, Lead Program Manager, team member since December 2003
The thing I like most is that I'm doing something different each day. One day I might be running the SMT machine and the next running the wave or selective solder machine. On another day, I could be doing some hand soldering. The variety keeps it challenging.
– Adam Letavec, Manufacturing Process Technician, team member since March 2002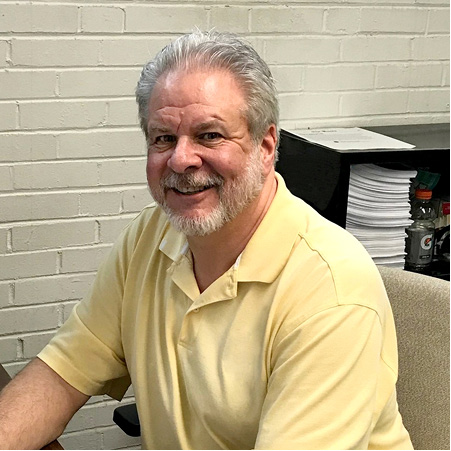 Even after 34 years it is rare that I have a boring day at work. In a company our size, I like that we have the flexibility to work both within and outside of our job description …. this also includes picking up the donuts for any of our company celebrations! That flexibility helps us meet our goals, our customer's needs, and improve on productivity in any way we can. I believe we all really take pride in what we do.
– Ed Mansell, Planner, team member since May 1984
What makes you want to stay at Intervala?
What has made me stay at Intervala for 30 years is the company's flexibility to work with me on time-off. Through the education reimbursement program, I was able to obtain two associate degrees. To obtain the second associate degree I needed one class that was only offered during working hours and the company let me leave work to attend that class, then come back to work to finish my shift. With the flexibility of work schedule everybody wins.
– Steve Yoxall, Electronics Technician 3, team member since April 1987
What would you tell a potential applicant about Intervala?
Intervala is an open, collaborative work environment. In addition to my daily responsibilities, I've also had the opportunity to work on unique projects with individuals from different departments and at all levels of the organization. Intervala is a great place to work if you want to join a team where all employees' ideas are valued and considered.
– Courtney Shaffer, Talent Acquisition Specialist, team member since May 2016